Our Technology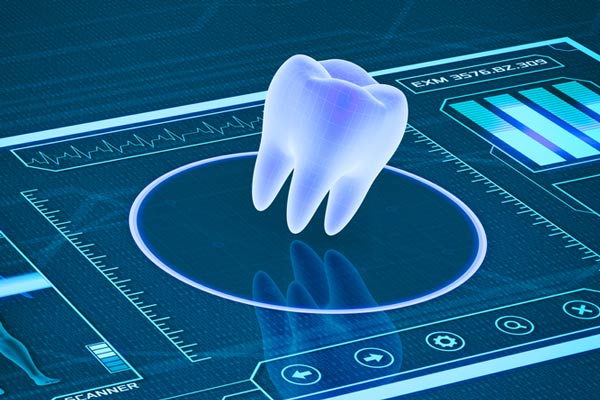 When choosing a dentist, you should feel comfortable and secure in their ability to provide safe and effective treatment, which is why we here at The Center for Esthetic Dentistry use precision dentistry technology. We use state-of-the-art technology to enhance the quality of treatment and provide the most effective results. We employ everything from digital x-rays to laser technology to help you maintain a lifetime of healthy, beautiful teeth.


Digital X-Rays

Certain dental problems cannot be seen with the naked eye, which is why we utilize x-rays. X-rays are an important diagnostic tool that can help us identify:

| | |
| --- | --- |
| • | Minor instances of decay, both in between teeth and below existing fillings |
| • | Instances of periodontal disease not visible to the eye |
| • | Cysts or abscesses |
| • | Certain types of tumors |
| • | Infections in the alveolar bone |
| • | Developmental irregularities |
| • | Other oral health problems |

Traditional dental x-rays were developed using film, which took a significant amount of time to develop. Not to mention, they were bad for the environment. These days, we use digital x-rays. Digital x-rays have some benefits over traditional ones. For instance, digital x-rays do not need to be developed. The sensor produces an image on our screen in a matter of seconds. Dr. Darren S. Huddleston, DMD can also manipulate and magnify the image to get a more comprehensive look at your teeth, gum tissue, and alveolar bone.

How often we take an x-ray depends on your individual needs. Digital x-rays are ideal for patients in need of frequent x-rays because they produce much lower levels of radiation. If you are vulnerable to certain dental diseases, a digital x-ray can help us catch and treat a problem, before it becomes a major complication.


Intraoral Camera

An intraoral camera is a useful tool that gives us an in-depth look at your mouth. The camera resembles an oversized pen or wand. While the camera is in your mouth, both you and Dr. Darren S. Huddleston, DMD will be able to see a live feed on one of our monitors. An intraoral camera is especially useful for restorative procedures. We may use it as a diagnostic tool, or a rendering tool. In other words, an intraoral camera can help us discover problems and create a restoration. The camera takes thousands of photos and transforms them into a 3-D image of your tooth. This model, or digital impression, can be used to fabricate a crown and other types of restorations.


Laser dentistry is a relatively new field that has seen immense growth in recent years. Instead of a traditional drill, a laser can be used to target enamel, decay, or gum tissue. In other words, lasers can be used for both hard and soft tissue procedures with great precision. Treatment with dental lasers usually requires little to no anesthetic and reduces discomfort, bleeding, and healing time. That is because the laser also cauterizes as it cuts. For soft tissue procedures, this is a major advantage. Lasers can also be used to help detect cavities.



CEREC and CAD/CAM

The CEREC system is a major part of CAD/CAM dentistry. This is a field of dentistry that uses Computer-Aided Design and Computer-Aided Manufacturing to improve restorations. CEREC is an acronym that stands for Chairside Economical Restoration of Esthetic Ceramics. The CEREC system is a breakthrough innovation that allows us to construct, produce, and install dental restorations at the point of treatment, and without the need of a dental laboratory. As a patient, you no longer need to schedule multiple appointments to receive a restoration. All of the work is done the same day, in the office, and without inconvenience.

The CEREC system can be used to produce dental crowns, dental bonding, onlays, inlays, and porcelain veneers.


Schedule Your Appointment Now!

If you would like to experience our precision dental technology, call 541-507-0999, and schedule your appointment today!